1.5 Gallon Tight Head Lined Steel Pail/Drum With Handle and Flexspout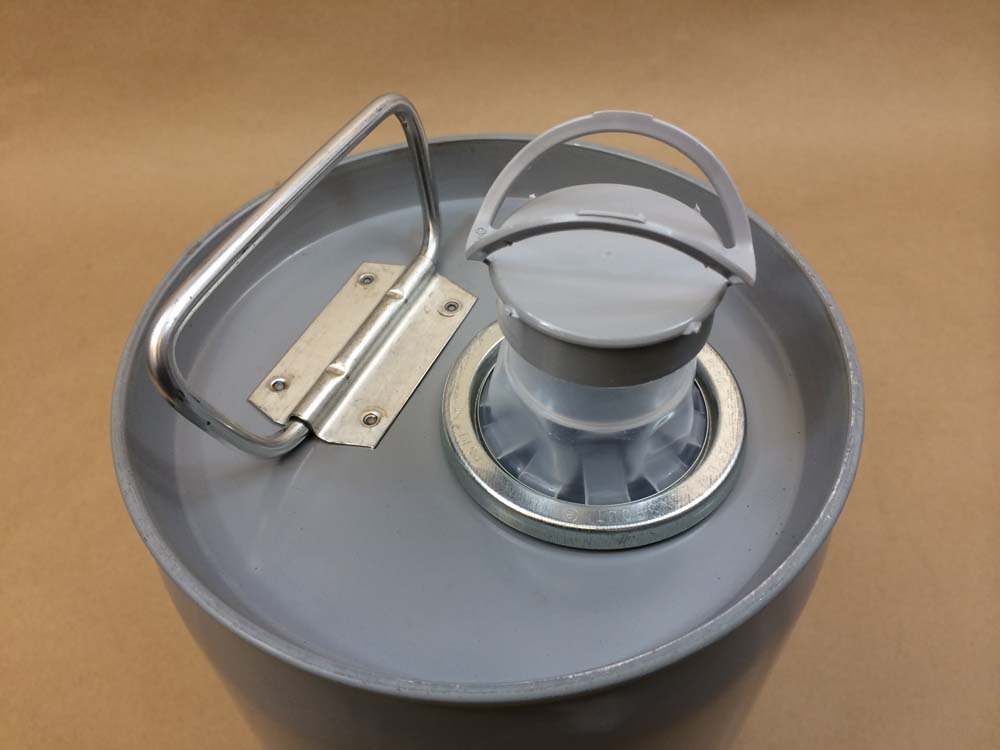 One of the smallest steel pails that we stock is our 1.5 gallon tight head lined steel pail/drum.  It is a 24 gauge pail that is gray on the outside and has a 2 coat green phenolic lining.  This pail has a UN designation of UN1A1/X1.5/250 making it suitable for hazardous product in the Packing Group I, II and III categories.  Green phenolic linings are unmodified phenolics and have a high degree of acid and solvent resistance.  This type of lining is not recommended for alkaline products.  Typically products that do not affect the lining are acid compounds, agricultural chemicals, insecticides, corrosive chemicals and more.  This pail requires a Rieke flexspout that is sold separately.  The spout is crimped onto the pail once the pail is filled with product.  To do this, you would need a flexspout crimping tool, also sold separately, and listed below.  You can find information, as well as pictures, on the crimping tool in this article.  Closing instructions for the pail are as follows:
2 COAT GREEN PHENOLIC LINED
UN1A1/X1.5/250
49CFR 178.2 (c) NOTIFICATION
Use Rieke Flexspout.  Check crimp with G101-1 gage (Shown in a picture below)
JACHTS ITEM 10BR-QV-F1BT
BWAY ITEM 6115590
As always, product compatibility with the container is the responsibility of the shipper.  Please call for a sample for testing with your product.
1.5 Gallon Green Phenolic Gray Steel Round 24 GA
Item: SPC0002CE3L001
UN Rating: 1A1/Y2.0/200
Opening: Tight Head Rieke Opening
Pack: 120
Our 1.5 gallon gray steel pail with a green phenolic lining is a tight head pail with a Rieke opening. It has a hole covered with a dust cap. Pails are shipped empty, with the dust cap on, so they remain clean. The end user fills the pail and then crimps on a Rieke Flexspout (sold separately). A Rieke Flexspout is a retractable plastic pour spout which offers a reliable and tamper evident seal. When the spout is closed, it has a low profile for ease of stacking. The tamper evident cap has a pull tab for fast removal. Once the Flexspout is crimped on, and before the first use, the cap is pulled off the spout and cannot be reattached. To use the pail, simply pull up the spout, dispense your product and reclose.
Natural Plastic 70mm Flexspout Flexspout
Item: PCA0000RI00011
UN Rating:
Opening: 70mm
Pack: 500
These Rieke Flexspouts must be crimped onto the opening of compatible containers. The crimp on tool is sold separately.