Plastic Jars
We stock plastic jars in polystyrene, polyethylene and polypropylene. Both blow molded and injection molded varieties are stocked.
Clear Rounds

Clear rounds are clear plastic jars. It is important to distinguish them from their polystyrene counter parts which can be found in a variety of styles. Food product such as peanut butter often come packed in this variety of container.
Click here to learn more
Space Saver Oblong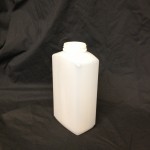 Space saver jars are rectangular or oblong. This allows for far more efficient packaging than a typical round container.
Click here to learn more
Standard Round or cc Round Polyethylene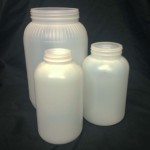 Standard rounds or cc round jars have openings that, while reasonably large, are typically not meant to be reached into. The contents are instead poured or shaken out of the jar.  Vitamins, pills, tablets and other items are often sold in standard round jars.
Click here to learn more
Wide Mouth Polyethylene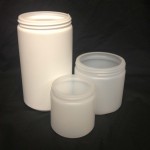 Wide mouth jars, as the name implies, have wide openings. These HDPE (high density polyethylene) jars are useful for a wide variety of purposes. Nutritional powders and similar products often come packed is containers of this variety.
Click here to learn more
Regular Wall Polypropylene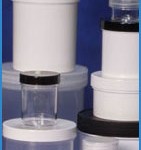 Regular wall plastic jars have standard side walls that do not extend to the edge of the lip on the jar. They are durable and relatively inexpensive compared to their thickwall counterparts.
The items shown below are stock and can be ordered in quantities as small as a single case. Colors require a minimum purchase. Often it can be helpful to locate the jar (dimensions etc) you want and then request the minimums on ordering a particular color for that specific item.
White Polypro Jars
Click here to learn more
Clarified Polypropylene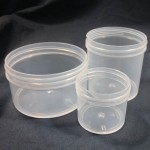 Clarified polypropylene is clearer than what used to be referred to as "natural" ; however they are still not perfectly clear. Natural (unpigmented) polypropylene tends to be rather cloudy and translucent. Clarified is a "less cloudy" version of natural plastic jars.
Click here to learn more
Clear Polystyrene Jars
These jars are made of polystyrene and are clear like glass.
Click here to learn more
Thick Wall Polypropylene and Polystyrene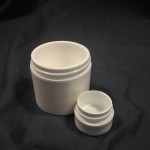 Thick wall plastic jars have significantly thicker side walls that extend outward to be vertically flush with the cap. They are aesthetically pleasing, making them a perfect cosmetics jar. The thicker side wall can also be an asset when heavier construction might be required.