2.5 Gallon F Style Jugs for Cleaners, Degreasers & Deodorizers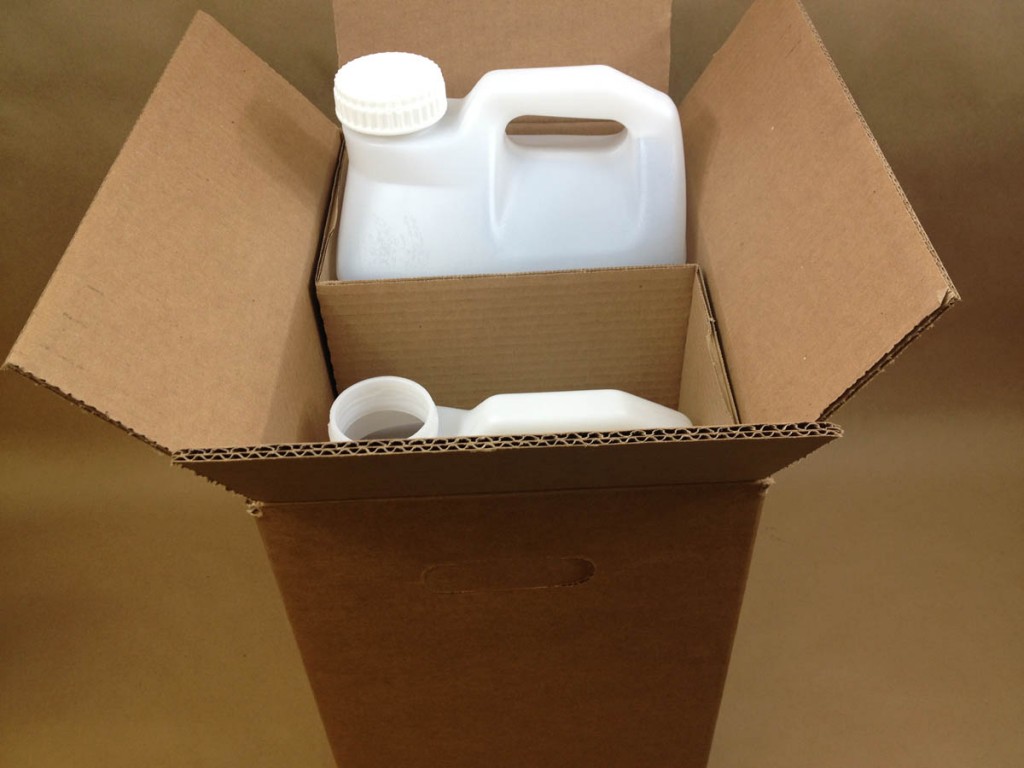 We stock a 2.5 gallon natural F style plastic jug that may suit your small packaging requirements for cleaners, degreasers and deodorizers.  This jug is made from natural translucent high density polyethylene and has gallon and litre graduation marks.  The graduation marks make it convenient to see the liquid level in the container.  We stock this jug in both a 2/pack reshipper box with a UN rating of UN4G/Y32/S and a bulk 24/pack box.  The bulk pack box is not UN rated and is suitable only for non-hazardous products.  Please note that whether you choose the 2/pack or the 24/pack, pricing is per bottle.  Caps are sold separately for these jugs.  The wide 63mm opening allows for ease of filling and emptying. You may choose from a foam lined (F217 lined) white plastic cap or a 63mm natural cap with an EPDM gasket.  The cap with the EPDM gasket has a 3/4″ center reducer that can be taken out allowing for our 3/4″ faucet to be threaded into the cap.  Consider these jugs for:
Industrial maintenance products

Pest control products
Cooling, boiler & water treatment products
Mold & mildew inhibitor solutions
Eco friendly cleaning solution products
Cleaners
Degreasers
Deodorizers
Stain Removal solutions
2.5 Gallon Jug in 2 Pack Reshipper Box – UN4G/Y32/S – Caps & Faucet Sold Separately
2.5 Gallon Jug in Bulk Pack (No UN Rating) – Caps & Faucet Sold Separately
Choice of Caps and Faucet – Sold Separately
63 485 F217 Foam White Plastic Round
Item: PCA0630RI10001
UN Rating:
Opening: 63 485
Pack: 1000
Foam liners are used extensively for foods, beverages, pharmaceuticals, cosmetics, industrial and household chemicals. They have good resistance to acids, alkalies, slow solvents, alcohols, oils and aqueous products. They have poor resistance to active hydrocarbon solvents. These liners comply with FDA regulation 177.1520(c)3.1 for food contact application.