4 x 4 Litre Plastic Jugs in 4G Packaging – ENT-KIT-4X1U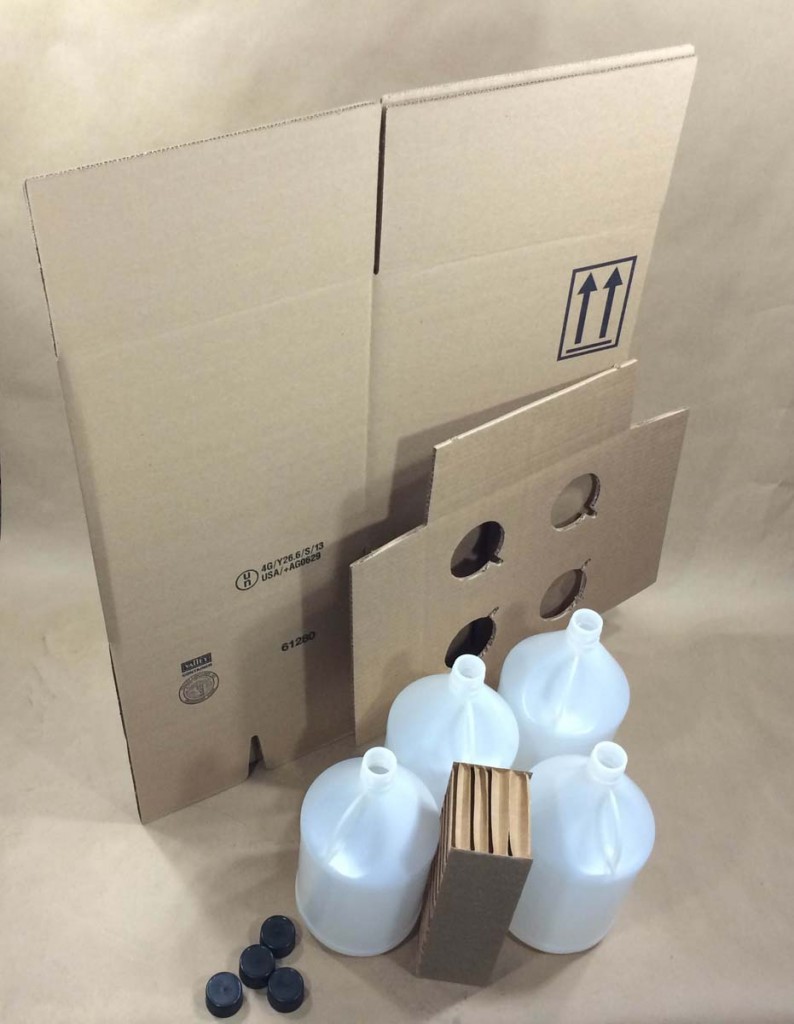 We stock 4 x 4 litre poly combo packaging with a UN rating of UN4G/Y26.6S.  This packaging (or kit) consists of the following pieces:
VCI61280                     Box
VCI61285                     Diecut Insert
VCI04664                     Honeycell Brace
RCC68930-08              4 Litre Center Fill Jug (4 Jugs)
OBMJ4101B/F422       38439 Acid Cap (4 Caps)
This kit holds 4 jugs per box – 1 jug per cell.  These kits require the use of bottle RCC68930-08 with cap OBMJ4101B/F422 for UN compliance.
Please Note:  Corrugated is priced separately from bottles and caps.
Bottle and cap prices can be found below:
Foam (F422) Black Plastic Ribbed Sides/Matte Top Acid Cap
Item: PCA0389PS20001
UN Rating:
Opening: 38 439
Pack: 1100
Referred to as an acid cap, this closure is for use on our item PBO0004AR00001. The F422 liner is acid resistant but as always, we suggest testing for compatibility with your product.
These kits come unassembled with closing instructions as listed below:
UN4G/Y26.6/S/12/USA/+AG0629
49CFR 178.2(c) NOTIFICATION
1)  SET UP BOX#VCI61280.  INSIDE BOTTOM FLAPS FOLD UP AND IN/OUTSIDE FLAPS PUSH IN TO CREATE 4 CELLS IN LOWER HALF OF BOX.  TAPE CENTER JOINT WITH 1 STRIP 3″ REINFORCED GUMMED PAPER TAPE OR 1 STRIP 2″ HEAVY DUTY PS PLASTIC TAPE(MIN. 2.4 MIL THICK).   TAPES EXTEND MINIMUM 2.5″ ON EACH SIDE PANEL.
2)  PLACE 4 BOTTLES#RCC68930-08 WITH CAPS#OBMJ4101B/F422 IN BOX.  HAND
TIGHTEN CAPS.(41 IN-LBS).
3)  PLACE HOLD DOWN INSERT#VCI61285  OVER BOTTLES.
4)  PLACE HONEYCELL BLOCK#VCI04664 ON TOP OF INSERT#VCI61285 BETWEEN     BOTTLES.
5) TAPE TOP FLAPS CLOSED AS IN STEP#1 ABOVE.  PLEASE  NOTE  OFFSET SCORES FOR THESE FLAPS.  LOWER SCORE IS INNER FLAP.
NOT CERTIFIED FOR AIR SHIPMENTS.   RETEST DUE BY 12/29/14
THE ABOVE KIT CONTAINS THE ITEMS LISTED BELOW
Categories: combination packaging