5 Gallon Plastic Rectangular Tight Head Containers in Natural, Black or Blue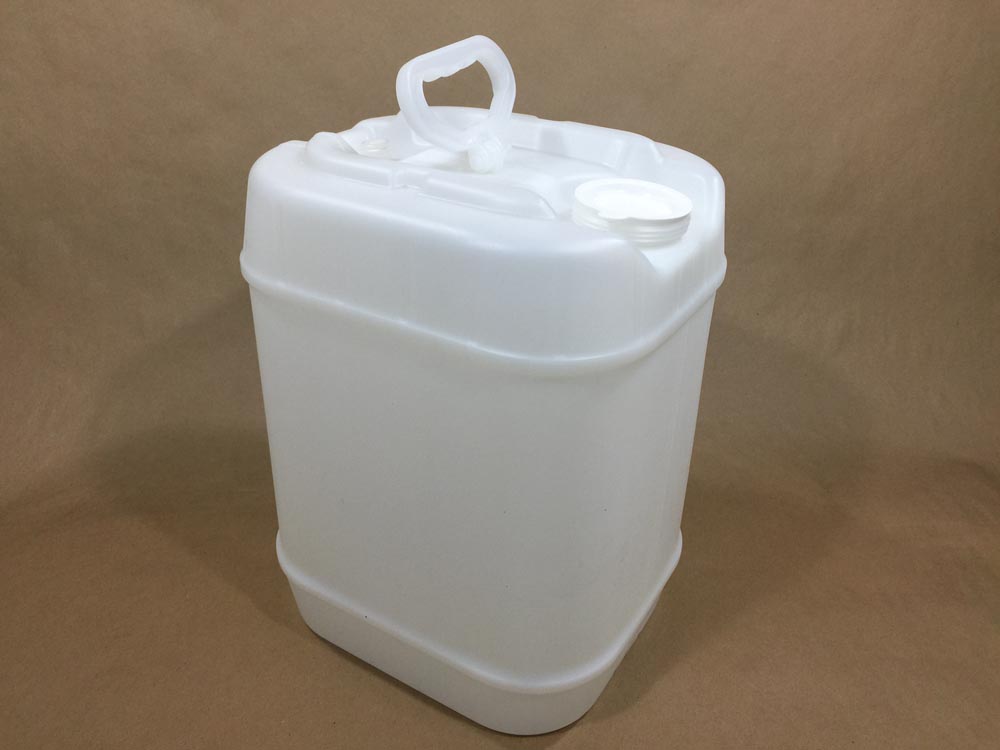 5 gallon plastic rectangular tight head containers are available in natural, blue or black.  They are available with swing handles or with integral handles.  Our item # KLW-EC1970NTNA-1A is a UN4G package, available in a box.  Our item # KLW-EC1970NTNA-B has gallon graduation marks but is not UN rated.  All of the other containers on this page have a UN designation and are rated for hazardous materials.  These containers are commonly referred to as jerricans or jerrycans.  They are also referred to as chemical jugs, however, they are frequently used for shipping and storing non-hazardous product such as cleaning solutions, janitorial supplies and even maple syrup.  All containers, with the exception of the black, are food grade.  Please scroll down past the pictures for the item numbers and pricing.
Rectangular Containers with Swing Handles – Caps Sold Separately
Rectangular Containers with Integral Handles and Buttress Plugs Included
5 Gallon Black Plastic Closed Top Rectangular High Density Polyethylene
Item: PDC0005SC20006
UN Rating: 3H1/Y1.9/150
Opening:
Pack: 45
Black polyethylene is not food grade.This is a 5 gallon black blow molded container with an integral handle. The closure on this drum is a 2" buttress plug with a 3/4" NPS (National Pipe Standard) reducer and is included. The rectangular shape and stackable design minimize storage space. While our black delex container is good for light sensitive products, please note that the 2" buttress plug is natural in color and does not block light.
UN4G Plastic Bottle with Box – E-tainer
Non UN Rated Plastic Bottle with Graduation Marks