5 Gallon Red Plastic Pail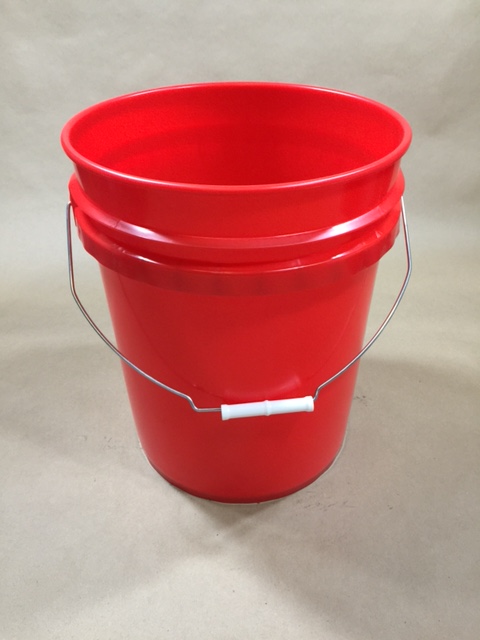 Looking for a plastic pail with a bright color.  Consider our 5 gallon red plastic pail with the following dimensions:
Outside Top Diameter – 12″
Outside Bottom Diameter – 10 3/8″
Height (without cover) – 14 11/16″
Our 5 gallon red plastic pails are:
FDA compliant
Stackable
High Density Polyethylene
Tapered
Covers are sold separately.  Our white and black teartab covers are shown below.  Also shown below is a picture of the baby warning on the pail.  Plastic pails in sizes 3.5 gallon and above have the baby warning labels imprinted on them.  As always, compatibility of the product with the container is the responsibility of the shipper.  Please call for a sample for testing with your product.
5 Gallon Red Plastic Heavy Duty Red UN Rated for Liquids
Item: PPA0005SC70001
UN Rating: UN1H2/Y1.5/30 and UN1H2/Y43/S or UN1H2/Y27/S with cover 20SO-2AN-1TUNR
Opening: Open Head
Pack: 120 Tray/20 Case
UN1H2/Y27/S WITH COVER JAC-20SO-2AN-1TUNR UN1H2/Y1.5/30 WITH COVERS PCI-12382 OR PCI-12398 UN1H2/Y43/S WITH PCI-12398 ONLY COVERS AND PAILS MUST HAVE MATCHING UN MARKINGS APPLICABLE TO THE APPLICATION