5 Gallon UN Chemical Jug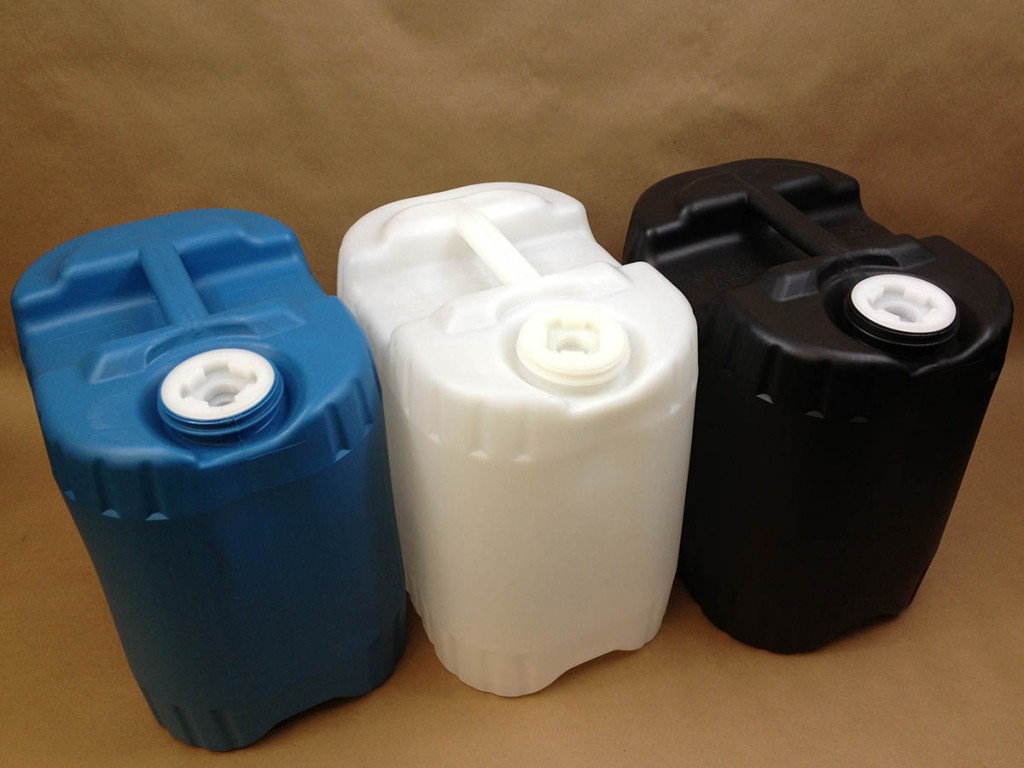 We stock a 5 gallon chemical jug, or jerrican, with a 2″ internal buttress plug opening.  Supplied with the jug is a Brandt plug with an EPDM gasket.  This jug has a UN rating of UN3H1/Y1.9/150 and UN3H1/Y1.4/100 when vented.  This chemical container is authorized for Packing Groups II (Y) and III (Z).  The maximum specific gravity the container has been tested to hold for 5 minutes is 1.9 non-vented and 1.4 with vented closure.  The internal test pressure the container has been tested to hold for 5 minutes is 150 kPa with non-vented and 100kPA with vented closure.  Closing instructions are as follows:
UN3H1/Y1.9/150
UN3H1/Y1.4/100 WHEN VENTED
49CFR178.2(c) NOTIFICATION
USE BRANDT PLUG WITH EPDM
GASKET SUPPLIED WITH CONTAINER.
TORQUE PLUG TO 25 FT-LBS.
As it is the responsibility of the customer to determine product compatibility with the package, we would be happy to send samples.
We stock this jug in three colors, natural, black and blue.  The blow molded, rectangular stackable design of this jug minimizes storage space. The blue and natural are food grade.  The black is not food grade.  Although this is a heavy duty high density polyethylene jug with a UN designation, it can also be used for other non-hazardous products such as food or janitorial supplies. As an example, it can be used for  maple syrup or cleaning products.  The Wolverine plug supplied with the container has a 3/4″ center reducer.  You can remove the center reducer and thread a 3/4″ Flo Rite faucet into the plug.
5 Gallon Chemical Jug
5 Gallon Black Plastic Closed Top Rectangular High Density Polyethylene
Item: PDC0005SC20006
UN Rating: 3H1/Y1.9/150
Opening:
Pack: 45
Black polyethylene is not food grade.This is a 5 gallon black blow molded container with an integral handle. The closure on this drum is a 2" buttress plug with a 3/4" NPS (National Pipe Standard) reducer and is included. The rectangular shape and stackable design minimize storage space. While our black delex container is good for light sensitive products, please note that the 2" buttress plug is natural in color and does not block light.
Flo Rite Faucet