Dark Containers for Light Sensitive Products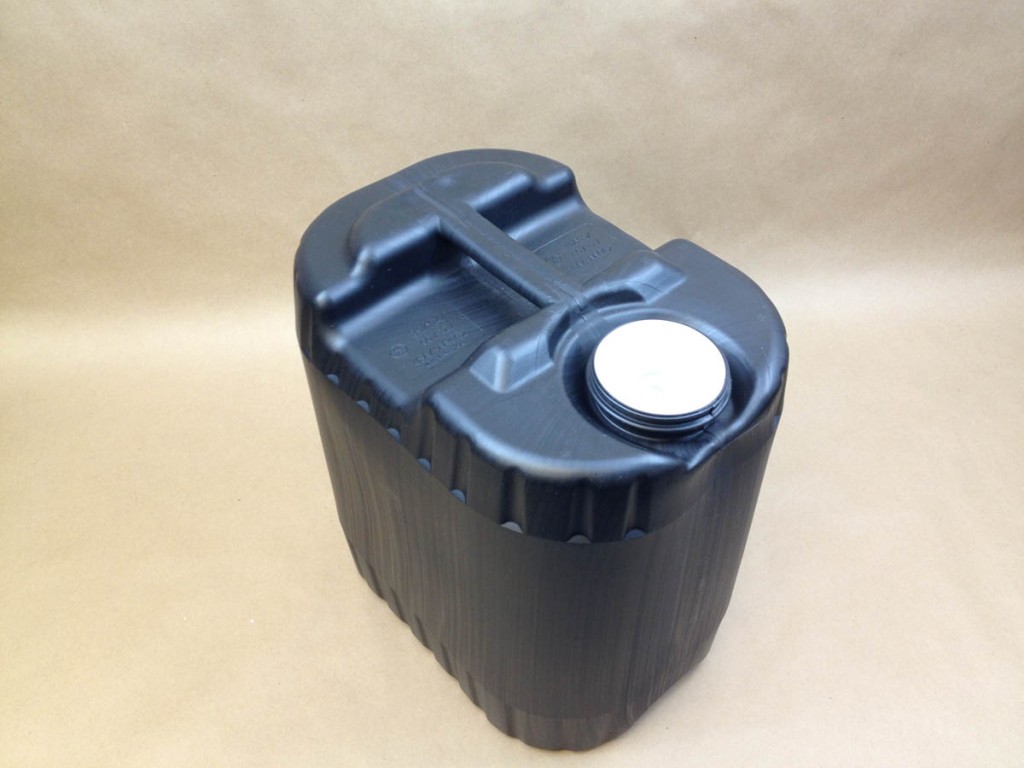 We carry a selection of dark containers for light sensitive products. There are some products that are sensitive to UV rays.  Exposure to light may hasten product degradation or cause your product to lose it's flavor. Among these products are:
essential oils
dyes
medications
flavors
beer
photography film
chemicals
adhesives
inks
We are told that some customers use our black plastic pails for hydroponic gardening, as the black color helps to keep down algae growth.
This article is comprised of amber colored or black containers that help to block out the UV rays.
Black Plastic Pail
Black Plastic Tight Head Drums
Amber Plastic Bottles
Amber Glass Jars
Tin Cans

As always, we would be glad to send a sample to test with your product.
Black Plastic Pail – Lids Sold Separately
The lids for our black plastic buckets (pails) are sold separately.  We stock both a solid lid and a lid with a flexspout.

Black Plastic Tight Head Drums
We have black tight head drums in 5 gallon, 15 gallon and 55 gallon sizes.
5 Gallon Black Plastic Closed Top Rectangular High Density Polyethylene
Item: PDC0005SC20006
UN Rating: 3H1/Y1.9/150
Opening:
Pack: 45
Minimum Order Qty for Black is 2100 pieces.
Black polyethylene is not food grade.This is a 5 gallon black blow molded container with an integral handle. The closure on this drum is a 2" buttress plug with a 3/4" NPS (National Pipe Standard) reducer and is included. The rectangular shape and stackable design minimize storage space. While our black delex container is good for light sensitive products, please note that the 2" buttress plug is natural in color and does not block light.
15 Gallon Black Plastic Closed Top Round High Density Polyethylene
Item: PDC0015MA20002
UN Rating: 1H1/X1.9/250
Opening:
Pack: 1
This black 15 gallon deldrum is a closed head drum and the cover is not removable. It has two 2" buttress plugs with 3/4" center reducers. It is blow molded, made from high density polyethylene and is heavily constructed for maximum chemical resistance. It has dual rectractable handles for extra strength and durability. It has a stackable interlocking design and exaggerated rolling hoops for easy handling and optimal label protection.
Amber Plastic Bottles – Caps Included
Our Precisionware amber plastic bottles are made from high density polyethylene (hdpe) with matching linerless polypropylene caps.
250ml Amber Plastic Precisionware
Item: PBO0250BA80001
UN Rating:
Opening: 45mm
Pack: 200
This high density polyethylene bottle comes with a 45mm linerless polypropylene cap.
Amber Glass Jars – Caps Sold Sepatately
Our cc jars (wide mouth packers) are listed below.  Caps are sold separately.