Do you sell Unlined Steel Drums?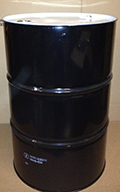 We stock unlined steel drums in sizes ranging from 15 to 55 gallon in both open head (removable cover) and closed head (tight or fixed top which is not removable) styles. The open head steel drums have either a ring and bolt or a lever-lock closure. We carry unlined drums with or without a UN rating which becomes important when transporting certain hazardous materials.
We have been told that some customers use the 55 gallon closed head unlined steel drum to make a BBQ Grill/Smoker. This is our item number MSD5-20-01.
Unlined steel drums can be used for many applications including:
Storage/transportation of petroleum products
Storage of sand/gravel for a safety barrier
Environmental clean up