Granular and Liquid Ice Melt/De-Icer Containers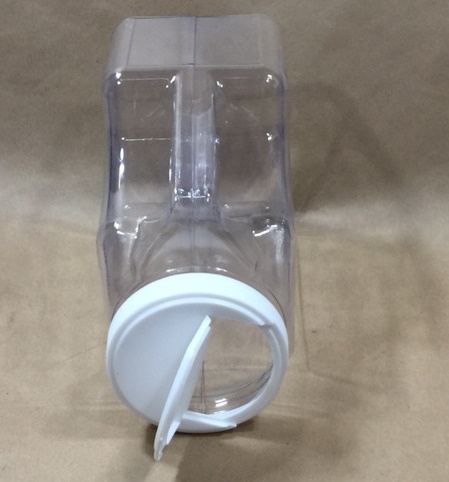 We stock several choices to package both granular and liquid ice melt and de-icer.  Some choices have a UN designation for hazardous product and, if applicable, the UN rating is listed in the item description.  Choices include the following:
It is the responsibility of the customer to determine product compatibility with the packaging being purchased.  We would be happy to send samples for testing with your product.
168 Ounce Handled Canister
Our 168 ounce clear PVC handled canister along with a shaker cap (sold separately) is a popular choice for granular ice melt.
2.5 Gallon Jug
Consider our 2.5 gallon jug for liquid de-icer.  This jug can be purchased in a 2 pack reshipper box with a UN designation.  It can also be purchased in a 24 pack bulk box without a UN rating.  63mm caps are sold separately and listed below.  Cap # RKCSC-63R-143 has a 3/4″ center reducer which can be knocked out and, if needed, a 3/4″ Florite faucet can be threaded into the cap.
63 485 F217 Foam White Plastic Round
Item: PCA0630RI10001
UN Rating:
Opening: 63 485
Pack: 1000
Foam liners are used extensively for foods, beverages, pharmaceuticals, cosmetics, industrial and household chemicals. They have good resistance to acids, alkalies, slow solvents, alcohols, oils and aqueous products. They have poor resistance to active hydrocarbon solvents. These liners comply with FDA regulation 177.1520(c)3.1 for food contact application.
5 Gallon HDPE Bottle in a Sturdy Corrugated Housing
Need to cover a large area?  Our 5 gallon E-tainer is great for liquid de-icer.  This bottle within a box has a UN4G designation
3.5 Gallon and 5 Gallon Plastic Pails
Our 3.5 gallon/30 lb. plastic bucket or our 5 gallon/45 lb. plastic bucket are a good choice for granular ice melt.  Moisture and air can cause ice melt to harden.  Our pails with their gasketed covers can help to keep your product dry.