Large Assortment of Straight Sided Injection Molded Plastic Jars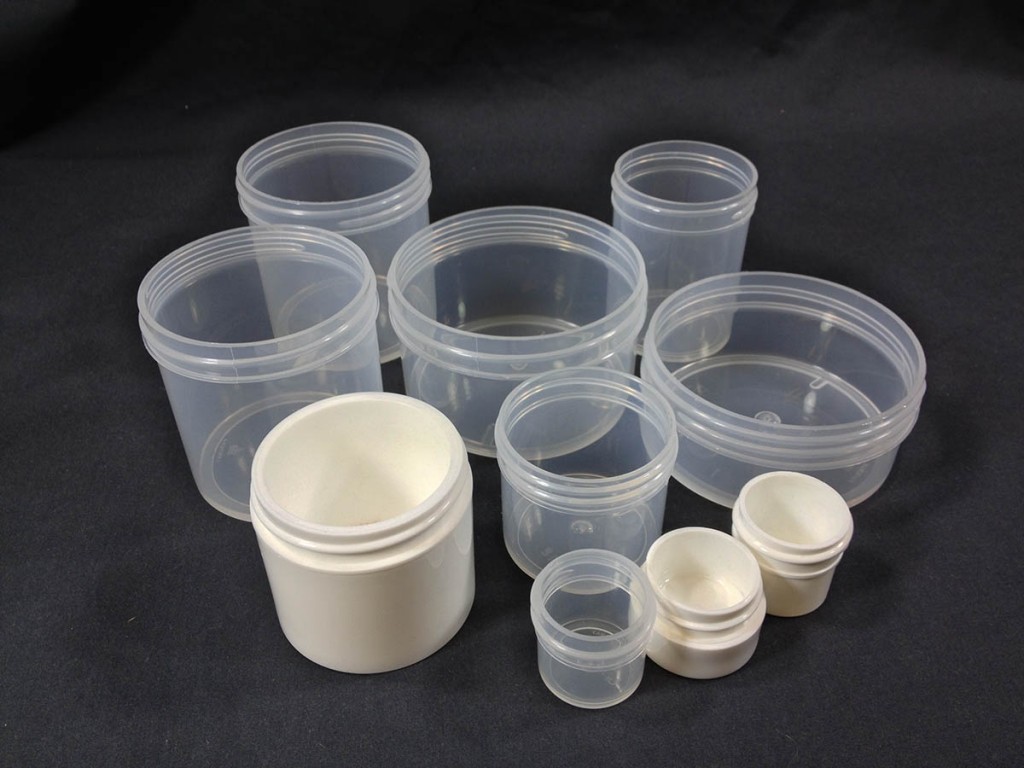 Among the plastic jars we stock are a large assortment of straight sided injection molded plastic jars.  These jars are available in sizes from 1/4 ounce to 40 ounces.  They are also available in regular wall or thick wall construction.  In most sizes you will have your choice of white polypropylene, clarified polypropylene or crystal clear polystyrene.  These jars are inexpensive and versatile and are used across many industries such as automotive, biotechnology, car wash, drug testing and more.  Common used for these jars include:
vitamins and supplements
mints and hard candies
lab specimen jars
hardware – storage of nails, screws
beads
decorative sand
paint samples
epoxy samples
As always, not all jars are suitable for all applications.  As the compatibility of the product with the container is the responsibility of the end user, we strongly recommend that you obtain samples for testing with your product.
Regular Wall Jars
Regular wall plastic jars can be used in many different applications.  We stock these jars in sizes ranging from 1/4 ounce to 40 ounces.  These jars have large printing and decorating areas and can be used with automatic filling and capping machines.  They also have a bead or lip around the top of the jar, just under the thread.  This bead acts as a protective barrier for the side wall of the jar during shipping and storage.  This lip also helps to secure a tamper evident shrink band if one is used.
White Polypropylene
Click here to learn more
Clarified Polypropylene
Click here to learn more
Clear Polystyrene
Click here to learn more
Thick Wall Jars
These solid thick wall plastic jars range from 1/4 ounce to 16 ounces.  They are popular with the cosmetic and pharmaceutical industries.  These jars have a solid feel, and should not be confused with lighter, more fragile double wall plastic jars.
White Polypropylene