Plastic Sample Bottles & Jars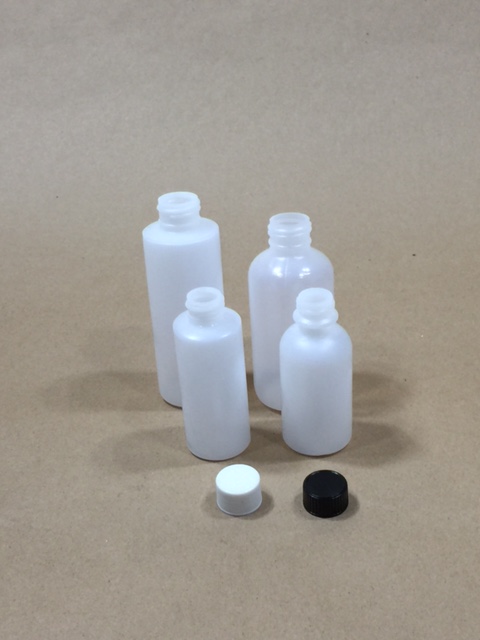 Do you need to send out samples of your product in small plastic bottles or plastic jars?  Yankee Containers may be able to help.  Plastic bottle sizes range from a small 1/2 ounce on up to a 32 ounce. Styles include:
Boston Round
Carafes
Cylinders
Modern Round
Standard Round/CC Round Polyethylene
The bottles shown in the picture include a 2 and 4 ounce Cylinder and a 2 and 4 ounce Boston Round.  We stock plastic jars in polystyrene,  polyethylene and polypropylene.  Caps are sold separately for all of the plastic bottles and jars. 
Please scroll below for a list by size of each type of bottle and jar available.
Boston Round
Boston Round plastic bottles have an evenly rounded shoulder that is similar to the standard round bottles but with a smaller opening.
Carafes
Carafes have a neck that is designed to allow a firm grip. They are a perfect match for trigger sprayers or as a plastic spray bottle.
Cylinders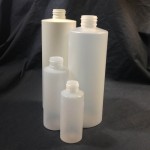 Cylinder plastic bottles have straight sides right up to the neck with only a very slight taper from the side wall to the neck of the bottle.
Modern Round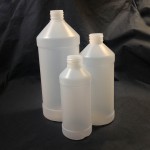 Modern round plastic bottles have an evenly angled shoulder that extends from the main diameter of the bottle up to the neck. Hydrogen Peroxide and Rubbing Alcohol are often packed in modern round bottles.
Standard Round / cc Round
Standard round or cc round bottles have a smooth evenly rounded shoulder. You can find a greater variety of similar items under cc round jars.