Steel Pails for Water Treatment Chemicals and Corrosive Liquids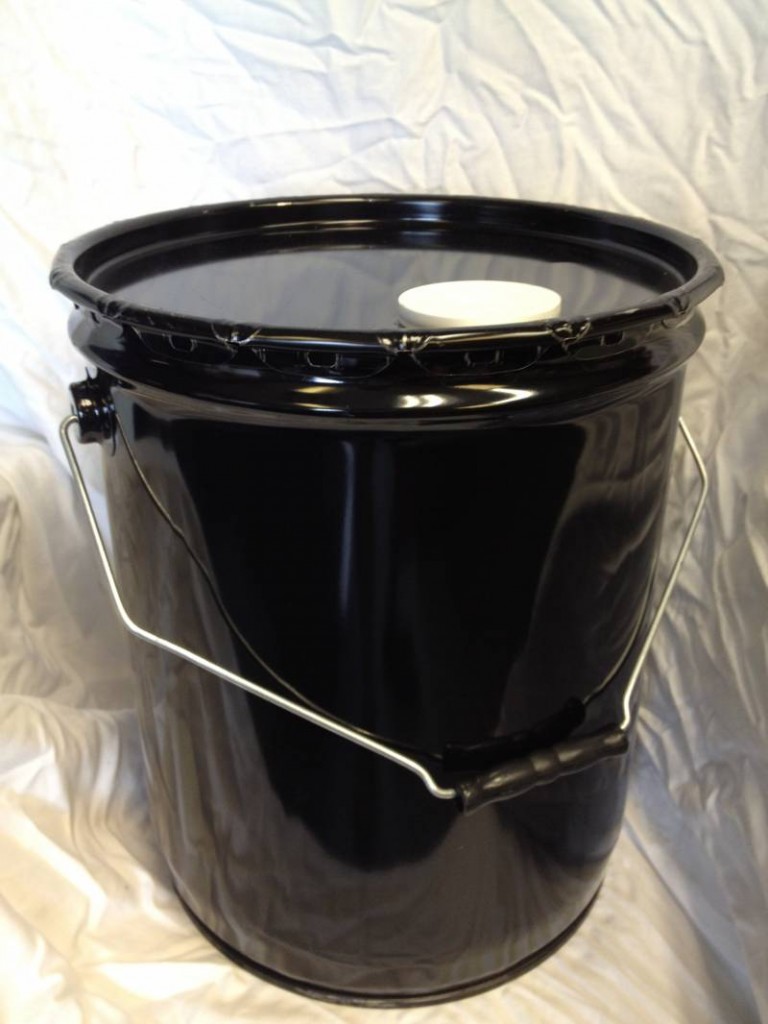 Looking for a steel pail for water treatment chemicals?  Consider our CSCP2-11-01.  This is a UN rated pail for both hazardous and non-hazardous liquids.  The UN rating is UN6HA1/Y1.8/100.  This pail is suitable for both Packing Group II & III liquids.
Some products such as water treatment chemicals and corrosion inhibitors, are corrosive.  Many times these types of product do not do well in unlined steel pails or steel pails with baked on linings.  Over time, a product such as this, may sit on a shelf and find tiny imperfections in the lining.  It can seep through and actually make it's way under the lining and can lift the lining up.  This might possibly contaminate the product being stored in the pail.  It could also possibly compromise the integrity of the package. This is where a composite pail with a plastic liner can be the pail of choice.  This pail is shipped with a dust cap on the Rieke opening to keep the pail interior clean.  The dust cap is removed when the pail is received.  The pail is then filled with product, after which a Rieke Flexspout (sold separately) is applied, using a Rieke Flexspout Crimping Tool (sold separately).  As the flexspout is crimped on, it seals both the spout and the liner to the pail.  A small relief hole (shown in the picture below) allows any air between the liner and pail to be forced out as the pail is filled.  Using this type of pail, keeps your product from contact with the steel.
Many water treatment chemicals, such as fungicides, algicides, slimicides and microbiocides are used (for example)  in the following applications:
recirculating cooling and process water systems

heat transfer systems

air washers

industrial scrubbing systems

containerized ponds

decorative fountains
These chemicals extend asset life by minimizing corrosion.  This improves productivity and equipment reliability.  This may help reduce downtime for cleaning by inhibiting the corrosion.  Obviously, it is important to keep this equipment running as problem free as possible.  Storing and transporting your water treatment chemicals in a composite, poly-lined pail can help towards accomplishing that goal.
As always, it is the responsibility of the shipper to be sure his product is compatible with the shipping container.  Some products may not be suited for this container.
 5 Gallon Composite Steel Pail
5 Gallon Polyethylene 2U Black Steel Round 0.5mm 24 GA Insert 1/8 Vent in Body
Item: SPO0005CS2L001
UN Rating: 6HA1/Y1.8/100
Opening: Open Head
Pack: 36
This black steel pail is a composite pail with a plastic liner. The liners are produced separately from the pail and hand assembled. The pail takes a Rieke Flexspout (sold separately) which must be attached with a special crimping tool. The pail comes with a dust cap which is removed and the pail is then filled. When the Flexspout is applied, it seals the liner to the pail, as well as sealing the spout to the pail. There is small hole in the side of the pail which allows any air between the liner and bladder to be forced out. UN6HA1/Y1.8/100
Rieke Flexspout
Natural Plastic 70mm Flexspout Flexspout
Item: PCA0000RI00011
UN Rating:
Opening: 70mm
Pack: 500
These Rieke Flexspouts must be crimped onto the opening of compatible containers. The crimp on tool is sold separately.
Flexspout Crimping Tool