1.5 Gallon Tight Head Steel Drum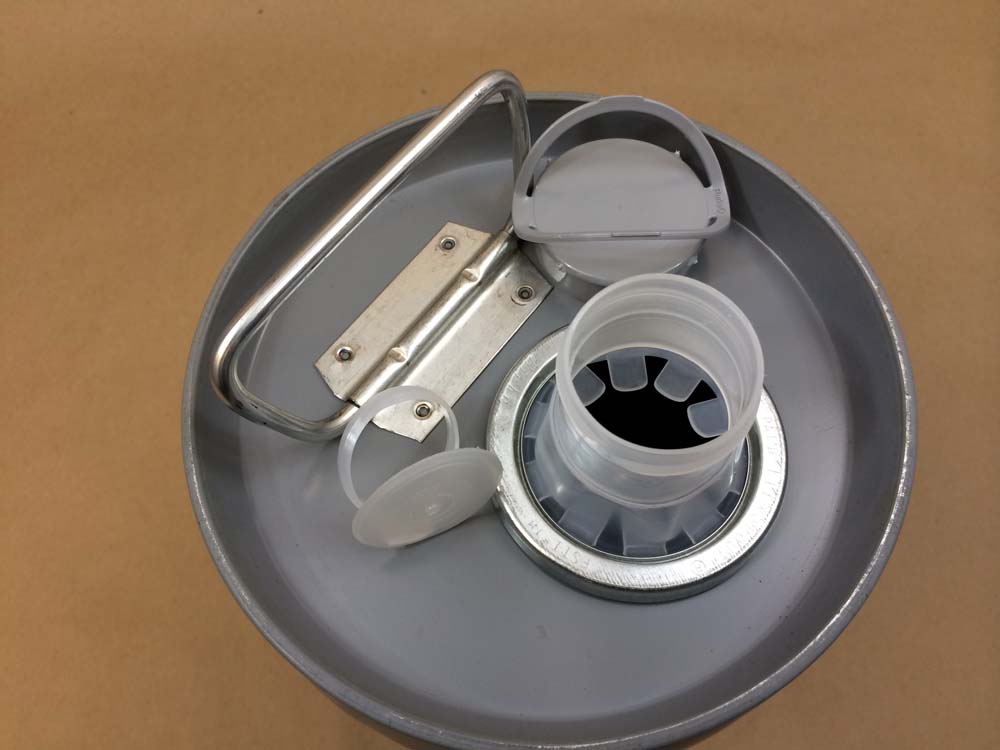 We carry a 1.5 gallon tight head (closed top) steel pail or drum  with a rieke opening. It is Item # CCC0101770. This is a 24 gauge gray steel drum with a UN rating of UN1A1/Y2.0/200. It has a 2KC120 lining which is an olive drab phenolic lining. This drum takes a rieke spout – Item # RKCFS10-10-231 and this spout would  have to be crimped onto the drum.
 1.5 Gallon Steel Pail (Drum)
1.5 Gallon Green Phenolic Gray Steel Round 24 GA
Item:

SPC0002CE3L001


UN Rating: 1A1/Y2.0/200
Tight Head Rieke Opening
Pack: 120


Our 1.5 gallon gray steel pail with a green phenolic lining is a tight head pail with a Rieke opening. It has a hole covered with a dust cap. Pails are shipped empty, with the dust cap on, so they remain clean. The end user fills the pail and then crimps on a Rieke Flexspout (sold separately). A Rieke Flexspout is a retractable plastic pour spout which offers a reliable and tamper evident seal. When the spout is closed, it has a low profile for ease of stacking. The tamper evident cap has a pull tab for fast removal. Once the Flexspout is crimped on, and before the first use, the cap is pulled off the spout and cannot be reattached. To use the pail, simply pull up the spout, dispense your product and reclose.
Rieke Flexspout – Sold Separately