Looking for Carboys,Jerricans, Plastic Bottles or Deltangulars?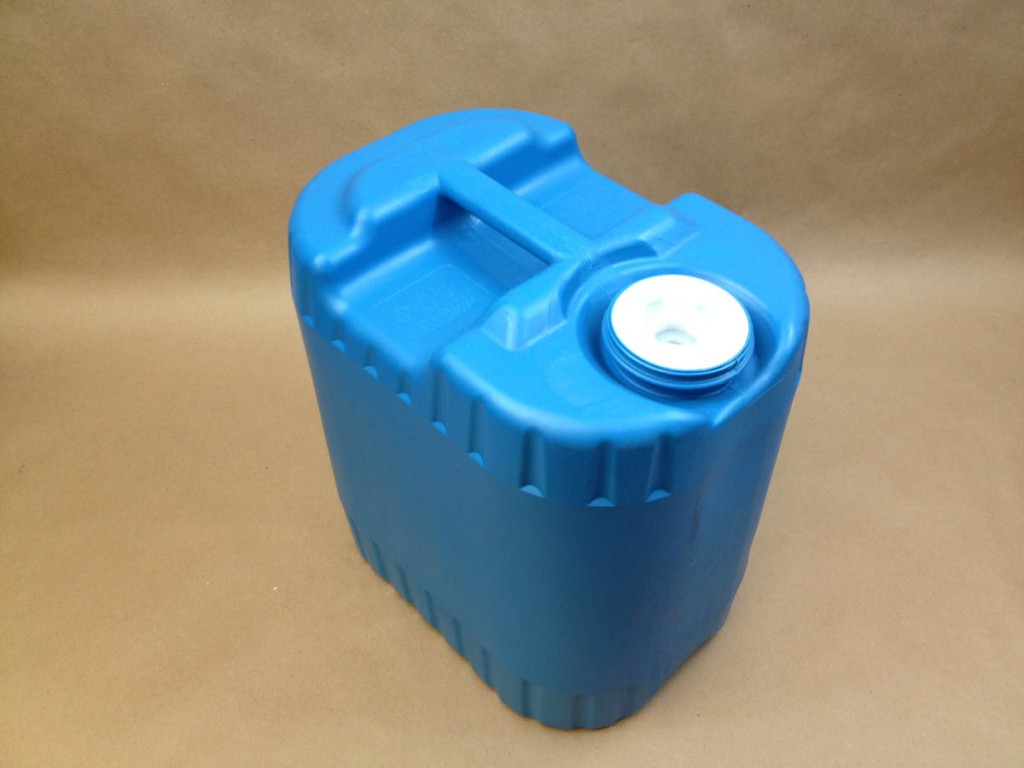 Are you looking to purchase a carboy or a jerrican?  Not sure what those terms mean?  Well here is Wikipedia's definition of a carboy.  Basically in typical terminology used today, a carboy or jerrican is a 5 gallon container, round or square, used for transporting liquids.  We have also heard them referred to as plastic bottles and deltangulars.  When they are UN rated, they can transport or store hazardous liquids, however they are also great for non-un applications such as janitorial and cleaning supplies.  However you refer to these containers, we will try to list them all in this article.  We also have some great pictures to help make your selection process easier.
5 Gallon Round Drum
5 Gallon Natural Plastic Closed Top Round
Item: PDC0005SC00017
UN Rating: UN1H1/Y1.8/100
Opening: 70TE and 28mm Vent Cap
Pack: 1
**USE ONLY CAP RKC-SC76RTE** Container comes with dust cap and 28mm vent cap. 70TE Caps are sold separately. RKC-SC76RTE cap has a 3/4" center reducer that can be removed and a 3/4" faucet can be threaded into the cap. RCK-SC76RTE is a 70mm cap with 6 threads per for stronger seal and tamper evidency. The 28mm vent cap is included.
5 Gallon Blue Plastic Closed Top Round
Item: PDC0005SC40015
UN Rating: UN1H1/Y1.8/100
Opening: 70mm Rieke
Pack: 36
Container comes with dust cap. 70mm Caps are sold separately. Your choice of a screw cap which is 70mm and has a 3/4" center reducer that can be removed and a 3/4" faucet can be threaded into the cap or we also stock a spout cap.
5 Gallon Rectangular Drum
5 Gallon Delex
The 2″ buttress plug comes with our delex, however we sell a 3/4″ Florite faucet (optional) that can be attached.
You can find information on our Delex containers here.
5 Gallon Black Plastic Closed Top Rectangular High Density Polyethylene
Item: PDC0005SC20006
UN Rating: 3H1/Y1.9/150
Opening:
Pack: 45
Minimum Order Qty for Black is 2100 pieces.
Black polyethylene is not food grade.This is a 5 gallon black blow molded container with an integral handle. The closure on this drum is a 2" buttress plug with a 3/4" NPS (National Pipe Standard) reducer and is included. The rectangular shape and stackable design minimize storage space. While our black delex container is good for light sensitive products, please note that the 2" buttress plug is natural in color and does not block light.
4.6 Gallon Oil Bottle
There are 2 cap choices for this bottle (listed below) and also an optional 3/4″ spigot
More detailed information on our 4.6 gallon oil bottle can be found here.
4.6 Gallon Natural Plastic Rectangular Oil Bottle with Box
Item: PBO0004CC00001
UN Rating:
Opening: 63mm Rieke
Pack: 1
Caps Sold Separately - Choice of 2 Caps - RCKFS632502F217 or RCKSC-63R-143. Please note that we suggest you not ship these via UPS, as they do not do very well in the UPS environment.
63 485 F217 Foam White Plastic Round
Item: PCA0630RI10001
UN Rating:
Opening: 63 485
Pack: 1000
Foam liners are used extensively for foods, beverages, pharmaceuticals, cosmetics, industrial and household chemicals. They have good resistance to acids, alkalies, slow solvents, alcohols, oils and aqueous products. They have poor resistance to active hydrocarbon solvents. These liners comply with FDA regulation 177.1520(c)3.1 for food contact application.
5 Gallon Bottle/Jugs or Deltangulars
Our large 5 gallon Hedpak (plastic bottle) is sold as bottle only without a UN rating, or in a box with a UN rating of UN4G/Y31.2/S.  These bottles have gallon graduation marks.  Our hedpaks come with a 70mm cap, however, we sell an optional 3/4″ spigot.