Plastic Drums – Open Head and Tight Head HDPE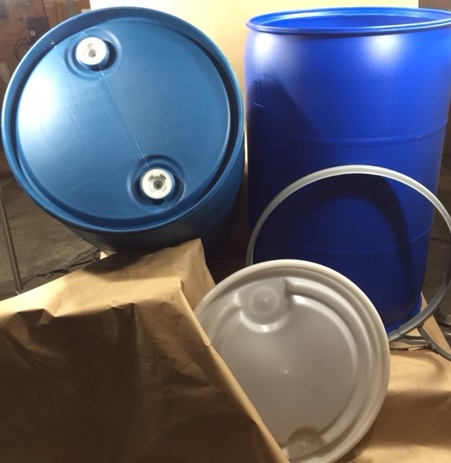 The picture to the right shows a 55 gallon open head plastic drum next to a 55 gallon tight head plastic drum.  As you can see, the open head drum has a cover that comes completely off and is held to the drum body with a lever locking ring.  The tight head drum does not have a removable cover.  It has instead one 2″ NPT and one  2″ buttress plug.  The open head drums are rated for hazardous solids while the tight head drums are rated for hazardous liquids.  Our plastic drums comply with FDA regulations for food and drugs which means that although they are rated for hazardous product, they may also be used for non-hazardous as well as food products.  Rugged and durable, these drums fulfill the highest demands for safety and transport quality.  Our Delcon EC drum – Item # SPP055C600UD155B4 – is a high quality plastic drum produced in a clean environment.  We refer to this drum as an EC, or electronics clean drum.
Open Head HDPE Plastic Drums
Tight Head HDPE Plastic Drums
30 Gallon Blue Plastic Closed Top Round High Density Polyethylene
Item: PDC0030MA40001
UN Rating: 1H1/Y1.8/100 & 1H1/Y1.4/100 When Vented
Opening:
Pack: 1
Our 30 gallon blue tight head drum has a cover that does not come off. It is made from high density polyethylene and is food grade. This drum has one 2" NPS plug and one 2" Buttress plug.